Disqualified leads in Marketo are the people who will never be our customers because they don't fit a target demographic. Immediately, they appear to have no potential revenue value. An Advocacy Track helps you get the value from these disqualified leads—why spurn those who like you and want to hear from you?
Marketers are faced with a tough choice regarding what to do with disqualified leads. Delete them ("they take up space") or count them in your revenue model (and skew the numbers of your opportunity pipeline, as they will never convert)? Disqualified leads should not count in your revenue analytics (for clean reporting purposes), they should be marketed to in a different way, and they should have a real, measurable ROI. Welcome to an Advocacy Track.
Who Becomes Disqualified, Why Do Leads Become Disqualified, and What Should We Do About It:
Even if a disqualified company came knocking on your door with a check ready, you wouldn't take it from them. Company too small? Probably don't have enough marketing revenue to buy our services. Too few employees? Same problem. Total opposite industry than we're targeting? Unfortunately not. There are many reasons that leads are disqualified, and they vary based on your buyer personas, business goals, and products.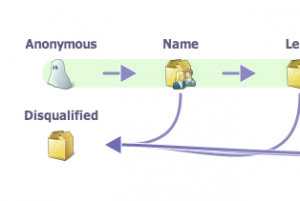 Don't leave that "disqualified" money on the table!
When a lead is created in Marketo, we do some demographic qualifications. Based on the company, we can tell revenue numbers, number of employees, location, industry, and some other relevant information. Very basic stuff, and if you aren't doing something like this at your company, you need to. That's B2B marketing automation 101. ReachForce is a good option for Marketo data enhancement.
Some leads don't make the cut, and they become disqualified leads instead of marketing qualified leads (MQLs). We no longer consider them potential customers, because we know even if they wanted to, we wouldn't take their business.
What we do is send them into a whole new track. Instead of immediate revenue as our KPI for these disqualified leads, we change the KPI to advocacy. They get on our Advocacy Track.
Why Invest Time and Money in an Marketo Lead Nurturing Track for Advocacy and Disqualified Leads?
The names are valuable, and this way you can capture their value in a different way. Because you have people who are coming with your site and engaging, and some of them will never be your customers. The students, the competitors, the companies who are too small, and the companies based outside of your region. Letting disqualified leads sit in your Marketo instance un-marketed is a waste of money.
You can help automate social media's job and SEO's job. Set up goals for social shares through the Advocacy Track, automate content/CTAs to that end. Set up goals for inbound links and guest posts, automate Marketo toward that end. Marketing automation isn't just a stand-alone; it's a tool to help automate and speed the jobs of others in marketing.
Some legitimate potential customers are disqualified. Some people lie. Some give you a freemail acount (e.g., Gmail, Hotmail, Yahoo, etc.) because they aren't ready to tell the truth yet. They give a bogus company name that gets past your validation anyway. If you disqualify these and stop marketing to them, you might be missing out on actual opportunities for direct revenue.
Advocacy Lead Nurturing Track KPIs:
Number of new qualified leads sourced through the Advocacy Track.
Number of inbound links sourced through the Advocacy Track.
Number of social shares.
Number of comments on articles.
Number of guest post blog offers sourced through the Advocacy Track.
How to Plan, Create, and Implement a Lead Nurturing Track for Advocacy:
Strategize. The leads on the "potential customer" track are served content to move them along their buying cycle. The leads on the Advocacy Track are served content to encourage them to engage and advocate for our company/content.
Create Smart Lists. Group those leads into lists. Smart lists. Potential customer? Gotta designate it. Disqualified advocate? That's the winner.
Create Segmentations. Segment by the smart lists: potential customers and advocates.
Create Dynamic Snippets. Segment the calls to action into dynamic snippets. Potential customers are hoping to engage more with your content and move along the buyer journey. Give them the appropriate material at the appropriate time so they can do this. Excellent places to start: "related resources," "download now/share now/comment now," "promoted content."
Implement dynamic landing pages, email blurbs, promotions. Use those segments for everything. Here's where all the possibility comes in. Dynamic snippets, content, tokens, based on your specific lead. I'm a big fan of throwing in a dynamic snippet on every landing page for CSS and Javascript differences, especially for changing calls to action and visual hierarchy. Just put a separate text token into each snippet, and you can define those on a top-level Marketo folder, or overwrite it on a more specific level (such as an individual program).
Track Everything for Advocacy Track Analytics. Bring in that dynamic UTM, and make sure you attribute the new traffic to the Advocacy Track's marketing. This helps with your analytics, so you can attribute success correctly to your Advocacy Track.
Create Advocacy Track nurture engagement engine. Think about how you want to do this. Feed them the stuff advocates want. Your best new blog posts, your exciting new assets, the sharable stuff, the linkable stuff. Craft some CTAs that are appropriate for Advocates and will provide real value working toward your Advocacy goals.
The Marketo Traffic Director: the new Marketo traffic cop. The traffic cop hasn't been laid off with Marketo's new engagement engine, she's been promoted to traffic director. Your engagement engines move people along their own streams (her old job as traffic cop), but your new traffic director puts people into the right engine in the first place.
I could write an entire book on just implementing a Marketo lead nurturing Advocacy Track. And as with all of Marketo, the goal of a smart setup is scalability—minimizing variable cost for future setup time while maximizing potential for change and growth. As Eric Hollebone mentions so accurately of Marketo in writing his piece on traffic cops, "being quick leads to being inflexible."
Follow @EdwardUnthank