Through both in-house marketing and client work, I've found some big, meaty tasks that need to be completed for marketing automation implementation. Here's a list of the projects you need to complete in order to get real ROI from your marketing automation.
There's a common statistic that's thrown around (ugh, but a different topic) saying that more than half of companies using marketing automation are not using it to its full potential. Statistics are too often oversimplified, 140-character profundities, so here is a substantial roll-up-your-sleeves checklist of things you need to do to fix the problem.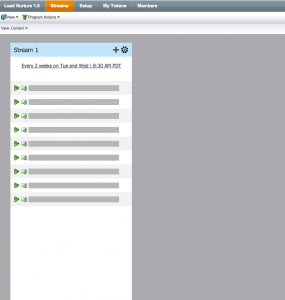 And then I was thrown into an overwhelming wrath upon seeing such a waste of money and potential, cursing everything in sight.
If you're still doing drip email campaigns in Marketo, you're wasting your money.
Drip email campaigns might be my biggest pet peeve in marketing automation. You have so much opportunity, and drip campaigns waste it. You need an intelligent lead nurturing email campaign in Marketo, and not a simple one either. Some say the Marketo traffic cop has been fired, but I say she's been promoted to a traffic director—market intelligently with buyer stage and product interest.
If you're doing a drip email campaign, that isn't personalized—you might as well be doing a weekly email blast from Outlook in which you BCC three thousand people. Nurture email campaigns in Marketo allow you to send emails that people actually value.
If you don't have demographic scoring in Marketo, you're wasting your money. You should know what companies you shouldn't spend your time with, and don't waste your sales team's time either.
But don't let those disqualified leads go to waste! That's what an advocacy track in Marketo is for: getting value from disqualified leads and catching the leads who fall through the cracks.
If you don't have an automated data washing machine to keep your database clean, you're wasting your money.
Make all your database fields uniform with extensive Marketo data hygiene. Set up your contact washing machine, and automate it.
U.S., usa, United States of America, USA, U.S.A., united states. You can make jobs to process these automatically and result in one clean "United States" field.
If you don't have automated exception reporting and alerts to your marketing automation employees, you're wasting your money.
Once marketing automation is, well, automated, you're in maintenance mode. Spinning that plate isn't hard when you set it up right. Set up error reporting for leads stuck in the pipeline. New leads without email addresses. New leads without proper demographic scoring. Disqualified leads with blank "Disqualified Reason" fields. Email bounce rates. Duplicate leads in Marketo. Competitors.
If you're not using tokens to scale Marketo programs efficiently, you're wasting your money.
Creating a new campaign (landing page, email, list, reporting) should take no longer than fifteen minutes after the original setup. If it takes longer than this, you're wasting your money. Employees working with and managing marketing automation should have a fiery hatred of doing redundant work. There's a joke about developers—they'll spend five hours writing a program to automate a 15 minute task (related distraction). These are the kind of people you should have set up your marketing automation platform and CRM integration.
If you don't have an automated mechanism to test Marketo emails, Marketo landing pages, and Marketo campaigns, you're wasting your money.
If you don't have a test running at all times, your work won't improve. Start with the greatest return on your testing investment. Start with headlines and copy (the easiest to change). I like Optimizely, and so does this other reputable guy.
If you don't have dynamic content for visitors based on their stage in the buying cycle, you're wasting your money.
Dynamic calls-to-action, dynamic thank-you snippets in emails, dynamic "related resource" promoted asset. Make sure people are never suggested a resource they've already downloaded, a blog post they've ever read, or an offer they've ever taken you up on. You can automate that.
If you don't have lead development representatives/marketing development representatives/sales development representatives, you're wasting your money.
I know, there are tons of terms for these people. It's basically a hybrid marketing/sales role. These reps touch your marketing-qualified-leads with phone calls and emails, but they aren't trying to sell a thing—they're just acting as a concierge for the person, guiding them to new resources they'll enjoy, staying in touch, and getting a feel for sales-readiness.
Use Marketo's Interesting Moments, tune it to get the perfect amount of information to sales reps. Integrate with your CRM (seriously, you need to).
If you don't have a bullet-proof revenue model that has clear accountability, sources correctly, shows progress and kinks, and offers predictive analytics, you're wasting your money.
It's not enough to market blindly. You must market intelligently, give credit where it is deserved, and hold people responsible when it is appropriate.
Do you have proper channel attribution? Marketing source linked to each lead, each MQL, each sale? Marketing influence (a bit different from marketing-sourced leads) for sales, seeing which channels are most effective in leading to sales?
If your marketing automation setup isn't flexible, you might not be wasting your money yet, but you will be really soon.
The "gotchas" I have encountered in implementing Marketo and expanding marketing automation, let me tell you, are the worst. I'm talking about having to spend a week straight redoing an entire project because of some silly oversight in original setup. Here's a freebie: make sure you decide on your input field type first, and forever, and never change it. If I encounter that error again I'm going to curl up into a ball in the corner and cry myself to sleep.
There isn't a document big enough in the world to encompass every aspect of a flexible, scalable marketing automation setup. If I didn't have the opportunity to work with experienced people in the first place, the learning curve might have beaten me.
Some themes arise regarding the true value of marketing automation:
Marketing automation is a beautiful thing because it allows you to personalize your content dynamically to specific users.
Sidenote: As a web developer, this is a cool. freaking. thing. And to do this normally, you have to be one intense programmer. Ruby on Rails kind of programmer. This opens the door to progressive reduction, which is pretty much one of the coolest use of web programming I've seen.
Marketing automation is a beautiful thing because it's automated. That means scalable. That means you should set it up once and then it runs on its own. You're wasting your money when you're not using the "automated" part. Which is fine if you don't want to automate your process, but you sure shouldn't pay for a functionality you're not going to use.
Your marketing automation tool is only as good as you make it, and you should make it flexible. And intelligent. And scalable. And automated.
If you're just using the marketing automation basics, it isn't enough. You're wasting your money, or you're not using your money to its fullest (which is just as bad in my opinion). When your employees (or marketing consultancy) don't have to waste their time on redundant tasks, they can spend their time adding value. And finding where investments are best spent using marketing automation.