Recently, I've been exploring the world of working from home. Part of that process is being able to set up a home office that is fun to work in—the primary piece of which is a desk where I can sit or where I can stand.
Enter Autonomous.ai Smart Desk 2, which I heard about through a remote-working friend.
I did an enormous amount of searching for furniture. I had originally settled on a BDI Sequel Lift sit/stand desk, which is admittedly very gorgeous and nice to use. As of mid-July 2016, though, the price for the BDI Sequel Lift Desk was $1,599.00 before taxes and shipping. The Autonomous.ai Smart Desk 2 is built on the same core product and motorized engine, execpt it's $249. Literally the same motor and base, with the difference only being some clever cord routing and the top glass/wood veneer. The shipping cost to have the BDI sit/stand desk delivered was quoted as $300 because I live in a rural area—this whole SmartDesk is cheaper than shipping itself.
(Also, shipping cost for these desks from Autonomous.ai is $49 per desk for the smaller version and $59 per desk for the larger version as of October 2016.)
Use this referral link to get $25 off of the SmartDesk 2
I'm in the process of starting a coworking space up in a small town of Washington, and we're purchasing the Autonomous.ai desks in bulk, because of how cheap they are and what incredible value they are. You can even buy a "DIY SmartDesk Kit" (Coupon in link) to create your own tabletop, or purchase a "SmartDesk Art" (Coupon in link) to get a specially-made tabletop from actual wood.
To summarize:
Here's a showing of how the $1,599 BDI sit/stand desk engine and base compares to this $249 Autonomous.AI Smart Desk 2: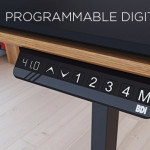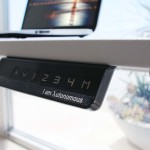 (Notice how they're the exact same? The BDI picture is a bit Photoshopped, but they're the same base mechanism.